Whether you're new to MobyMax or a long-time Moby champion, make sure you're taking advantage of everything Moby has to offer.
Live Training
MobyMax offers free daily training webinars, so you can meet with Moby staff and learn how to use every tool and resource Moby has to offer. We cover a broad range of topics, like Moby for Beginners, MobyMax at Home, Customizing Content, and Engaging Students. The webinars ensure you'll be able to differentiate and fix learning gaps in all subjects, whether you're in your classroom or teaching from home.
Here's our schedule of upcoming live webinars:
https://ed.mobymax.com/mobymax-webinar-2/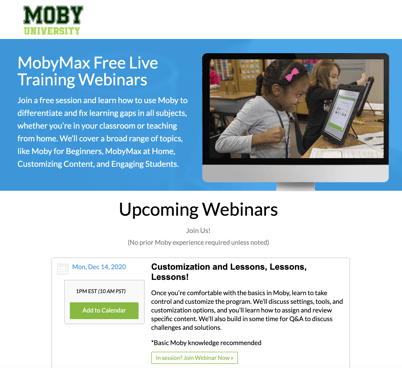 Recorded Webinars
Can't make a live session? No worries. Watch any of our 1-hour recorded webinars at your convenience. Some of the most popular include Getting Started in Moby and Exploring Interactive Class and Student Motivation Features. Find our library of pre-recorded webinars here: https://ed.mobymax.com/mobymax-webinar-recordings/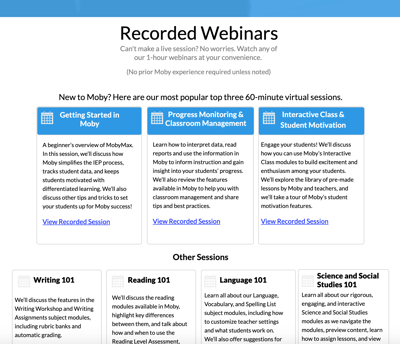 "How-To" Videos
Love YouTube? We do, too! That's why we have our own channel, where we've been busy creating a collection of 2-minute "how-to" videos on a range of topics. Learn how to prepare and send a video lesson, assign a fluency board game, and everything in between!
Here's a sneak peek at our video on how to prepare and send a video lesson to your students at home. Check it out, and don't forget to subscribe here: https://www.youtube.com/MobyLearning!
Online Help Center
We have a complete reference of commonly asked questions at https://support.mobymax.com/support/home. From here, you can search video tutorials, contact us, or get answers to commonly asked questions.
Live Support
Need a little more help? Don't be shy! We're here from 7:00 AM – 6:00 PM Eastern every Monday – Friday. Reach our customer support team members by calling 888-793-8331, or email us at support@mobymax.com.