Math + Pizza = Fun
MobyMax is looking for the most dedicated math class in America. Could it be yours? Join our nationwide Math Challenge starting this week and see if your class ranks as the best in the country!
Here's how the Challenge works.
We know that students and teachers love using MobyMax because it's such a fun way to boost math skills. So, it just makes good sense that more Moby Math means more fun!
That's why this end-of-year nationwide Moby Math Challenge puts the focus on how much time your class actually spends using Moby to do math. Participating teachers and classrooms will race against each other Monday (Dec 4) – Thursday (Dec 7) to see who racks up the highest average time spent in Moby Math.
The more minutes your class accumulates, the more improvements you'll see in students' abilities to understand place value, operations, proportional relationships, expressions and equations and probability – all of which align with Common Core standards and fit seamlessly into your schools' educational objectives and requirements.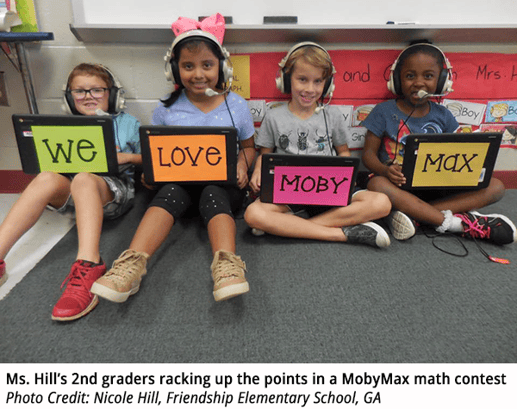 AND – the more minutes you garner, the greater your chances are of making it onto our National Leaderboard, which you can view on our Facebook page. Every day, the leaderboard will list the top 10 teachers and classrooms in order. Up until the very last day, you have the chance to be the best, just so long as your class keeps using MobyMax to do math.
Whether you're in the top 10 or not, if you post on our Facebook wall, your class will be entered into a drawing for one of two $50 daily gift cards that can be redeemed at various national pizza chains.
On Friday (Dec 8), we will draw 2 additional random winners at 2pm ET, and also award the top 5 classes from across the nation. All winners will be announced at www.facebook.com/mobylearning.
MobyMax challenges and contests are always popular with teachers! Here's what teachers have shared with us about some of the previous contests we've help them launch:
"My top student has a raw score of 183 points and has been on MobyMax for this contest a total of 14,918 seconds!!!! This is my first ever contest and the students love this!!! Why didn't I do this sooner?!?! I have several students who work on MobyMax at home (that's how they are racking up all the time) because they are so into this contest! Thank you MobyMax!!!" ~Kendra Stouch, Northwest Elementary, PA
"Amazing Day at Lee Eaton Elementary in Northfield, Ohio! My student Jacob is in the lead with 5,983 sec. and 145 points! Holy Cow! I am so proud of all my students!" ~Amy Taylor, Lee Eaton Elementary, OH
"My top student has practiced 33,195 seconds and has 257 raw points. They have really been battling it out! I love the #mobymax competitions because they take math to a whole new level of fun. If my top student doesn't win a movie gift card through this competition, I think I'm just going to go out and buy one for him or her. They have really put in so much work, and I am so proud of them all! Maybe we can even have a movie and popcorn party to celebrate this competition. What a great way to encourage students to enjoy math and feel like they can really do it! Thank you, MobyMax!!" ~Lauren Howard, Ventura Park Elementary, OR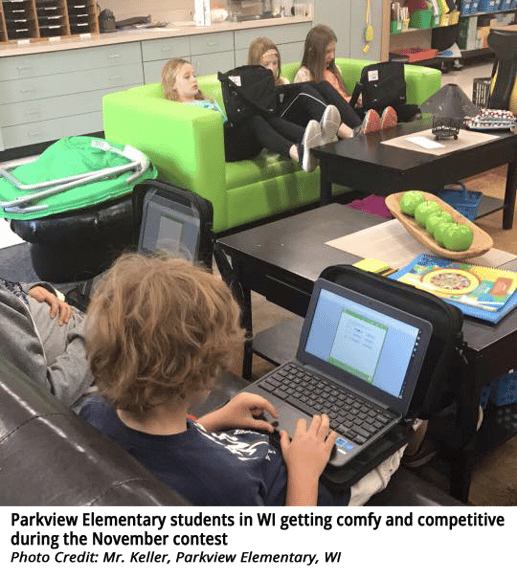 How to participate:

1. Set up your classroom contest in just 2 minutes!
- Log into your teacher account and click "Contests." 

- Name of Contest: MobyMax Math Challenge

- Select Dates: Mon Dec 4 - Thurs Dec 7, 2017

- Select Subject: Math
- Results based on: Time

- Contest for: My Classroom

Enter the daily drawing by sharing your top student's success in Moby on our Facebook wall! We don't need the student's name, just the time and raw points.
Want to Create Your Own Incentives?
Students say these work!
Individual incentives
Homework passes
Take your shoes off for a day in class
First student to reach 100% fluency receives a $10 gift card (Yogurt Mountain, DQ, Chik-Fil-A, Target, Dollar Store)
Select your seat in the class
Read morning announcements over the school PA System
Lunch with teacher or principal
Be the math hero for the day/week
Movie tickets
Hot chocolate
Trip to the school store
A book form the special book basket
Different size candy buckets for 1st, 2nd, 3rd place
Class incentives
Pizza party
Ice-cream or frozen yogurt party
1 hour of recess
Movie and Popcorn party
Cupcake decorating party
Electronics party
Extra fun Friday
Donuts on Monday if entire class achieves 20 minutes a day
Picnic lunch
Visit our Facebook page for more details!