MobyMax's Amy Weiss was thrilled to see Florida elementary school teacher Trisha Quattrocchi tweeting to celebrate her students' impressive achievement: 100% mastery of 5th grade math. What could be the secret to her class's success? Here's how Trisha explained it herself:
Trisha:
I am a 5th grade math teacher at Lake Magdalene Elementary School. None of my students are in AGP, but they are a seriously dedicated group of learners. Our focus is on mastering 5th grade standards, and boy, do we celebrate when we do!
We start out the year with a pretty classic testing process: in September, the students took their county formative tests and a MobyMax placement test. I used the formative test results to assign specific lessons in MobyMax.
Every six weeks since then, I have had students take another MobyMax placement test to see where they'd improved and if they'd mastered standards they previously missed. I also use the test results to create mini groups and assign leveled "exit tickets" using both Kahoot and paper quizzes.
Celebrating Progress
Each quarter, I hold award ceremonies for my two classes. Using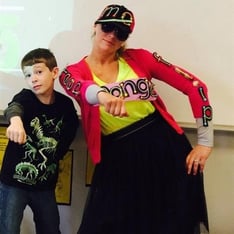 Moby's contest feature, we recognize their gains in math, measured in both percentages of improvement and actual points for the year. Some of the awards this year included Most Improved and Extracurricular Awards. And, since MobyMax covers all K-8 subjects, I hold additional contests and give awards in other subjects, such as Science.
We celebrate a particular student when he or she masters 5th grade math standards by dedicating a day to that student. So far, 16 students have reached this goal!
The celebrations are very exciting. At the beginning of the year, I asked the kids what the theme song of their life is. On the day a student reaches 100% mastery, I sneakily have him leave the room, then use giant letters to make signs spelling out his name. I have a bunch of pictures in folders from the year, and I do a fast upload into Animoto or Flipagram, using his theme song as the sound track.
Then, all the other students in the class line up and raise their hands overhead to make a victory tunnel. When the achieving student returns, he dashes through the tunnel to cheers and laughter. He's given a special 100% Club hat and a yummy Take5 candy bar, since our theme is "Take the 5th Grade by Storm." He also gets a homework pass and a special letter. One of my favorite parts of the celebration is when I call the parents with the great news of their child's accomplishments.
The student loves the limelight and recognition, and even something as silly as a candy bar makes him feel like his hard work paid off.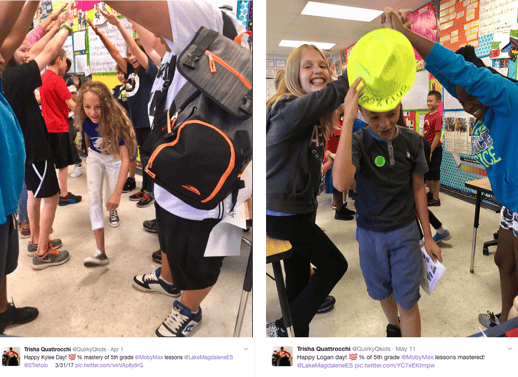 The celebration doesn't stop there. At the end of the year, we host our big 100% Club pizza party. This school year, in my two classes, 21 of our 5th graders achieved 100% mastery of MobyMax 5th grade lessons, and 6 of our 5th graders achieved 100% mastery of 6th grade lessons! These students were so excited to see the video featuring all 100% Club members!
Setting The Tone At The Beginning of The Day
One reason why my students have improved so much is because of the sheer amount of time they spend on Moby at home. In class, I also use Moby SRS or Kahoot to quickly understand where each student stands on a given topic before starting to teach. I begin each day with 5 questions on a topic we'll be covering. Based on the students' response, I can group them into mini groups, since there's no reason to have all students doing the same thing.
This is also a good way to make sure they're retaining what they're learning periodically throughout the year. Think about this: they do a Geometry and Volume lesson in September and never cover it again until testing time, when they are expected to remember it. By using MobyMax, I can continually check for understanding and retention and easily assign relevant work throughout the year to make sure they achieve (and keep!) mastery.
The fact that so many students have not only attained 5th grade math mastery but are already working in 7th and 8th grade math creates an overwhelming sense of team accomplishment in my class.
But it's also inspired me to want to do more; to help all my students achieve to their full potential. What more can a teacher ask for?