What can you do if your school unexpectedly closes down, but you have to keep teaching?
Florida's McKitrick Elementary School has turned to MobyMax.
Teachers at McKitrick have been able to make MobyMax a big part of their eLearning plan using using MobyMax's award-winning suite of remote learning tools—including quizzes, contests, assessments, reporting, and Moby Benchmarker—which will help this year's teachers convey student progress to next year's teachers.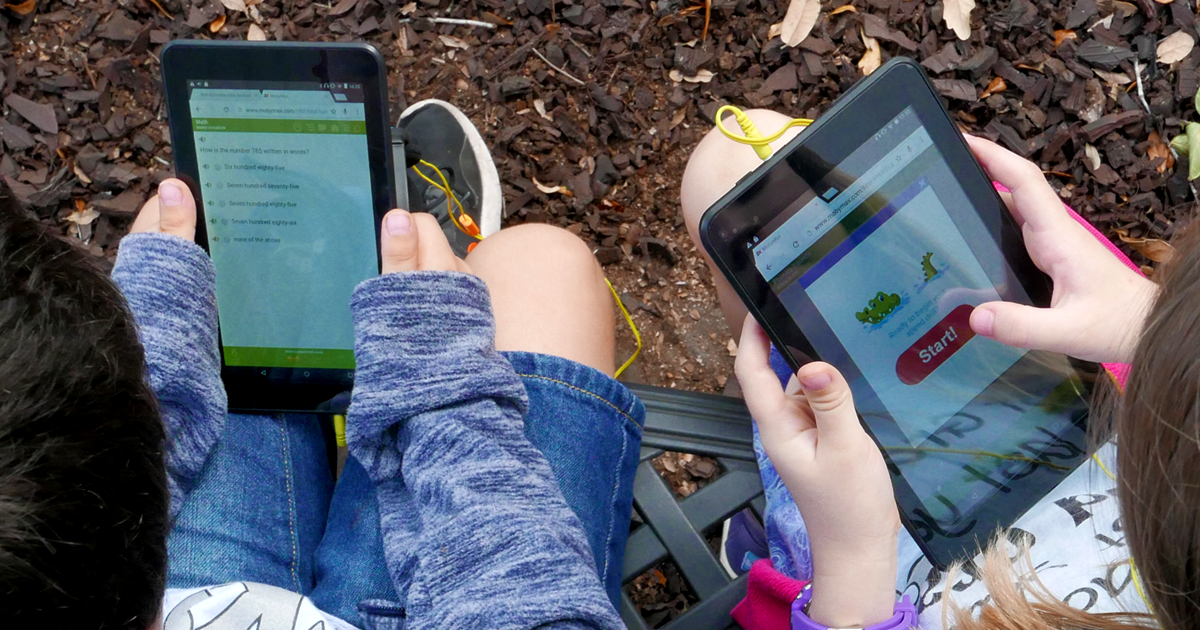 "We are in a great position to keep teaching our students," said third-grade teacher Monica Contreras, "as they have been using MobyMax for some time. Students just sign in and Moby teaches them as they go along. I tell parents, if they feel overwhelmed with other applications or assignments, their go-to is Moby."
When Hillsborough School District announced it would be closed until at least April 15, Contreras and other teachers at McKitrick sprang into action. They had previously had great success using Moby contests to motivate and engage students while building achievement, so they decided to do so again.
The teachers created a new contest in different subjects and for different grade levels that will run until classes resume in April. If school closure is extended, the contest will be extended as well.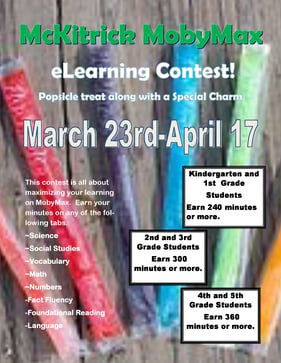 "The contest is all about maximizing student learning," Contreras explained. Students can earn minutes by working in Moby Science, Social Studies, Vocabulary, Math, Numbers, Fact Fluency, Foundational Reading, or Language. Students who reach the grade level goal by the time the contest ends will earn popsicle treats and charms that they can display on their backpacks.
Students are competing to rack up minutes, not beat each other out. The goal for kindergarten and first grade students is 240 minutes or more. Second and third grade students need to rack up 300 minutes or more, and fourth and fifth graders, 360 minutes or more.
Teachers can stay connected with students using Moby's Announcements and Tasks; they'll use Moby Messenger to dispatch personal messages to students. "We'll be live watching them using Moby's Real Time progress monitoring. We can send encouraging shout-outs and positive vibes," Contreras says, so students can get live feedback as they're working.
Contreras is using Moby as a reward by asking students to complete a Moby Fluency Team game or Moby Fluency Board game as a way to check for understanding. "Students know that if they have extra time, games are ready, and they can earn points and compete anytime."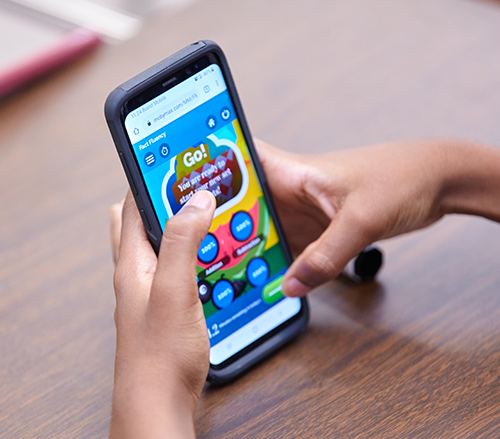 Students may not realize the game revolves around an assigned lesson topic or standard because it is so much fun, she says. Meanwhile, "all that data is flowing right back into Moby's data and reporting system so I can gauge classroom and individual progress."
Teachers will be using other programs such as Zoom and Flipgrid to video chat with students.
"We understand the challenges parents are facing," Contreras notes. "They may have three kids at home sharing one computer, and we don't want to leave any kids out. With Flipgrid, we can create a video chat room where we can speak privately with a student, and students can video themselves responding to a question."
The school district is planning to loan existing devices to students who need them at home and may be buying additional devices to try to reach every student who needs one. Charter Communications has granted free access to Spectrum broadband and WiFi for 60 days. Comcast has also stepped up by offering a two-month free promotion.
In this first week of the process, Contreras's third graders will be reviewing everything they've learned in reading so far. They'll be asked to complete 3 math modules for a total of around 95 minutes. They'll also complete 30 minutes of science as well as watch a video to review what they've learned about gravity.
"We're trying to create a plan so there is not more work for parents of elementary kids," said Contreras. "This is why Moby is so critical. MobyMax does not require the parents to teach anything, students are able to learn at their own pace, and it's a safe place to make mistakes. Moby will just reteach them, and they can learn from them!"
When asked what overall guidance she'd give to other teachers and schools struggling to set up online learning for their students, Contreras had only two words: "Get MobyMax."
#####
Helpful Resources:
McKitrick Elementary's 3rd Grade Virtual Learning Plan (Week 1)
Hillsborough County School District eLearning Contingency Plan
How to Access MobyMax's Free Emergency Offer
MobyMax has announced that its award-winning online K-8 curriculum is now available for free to any school that closes due to COVID-19. For more information, and to learn how MobyMax can become part of your school's Contingency Learning Plan, call 888-793-8331.