MobyMax makes going back to school fun (and competitive)! Moby tracks progress and gives teachers the data they need in seconds, and teachers across the country have made the numbers come to life with beautiful Moby-inspired bulletin boards. From hallway murals boasting Moby 100% Clubs to Walls of Fame by grade level, or just simple badge-tracking charts, these boards have gotten kids inspired, motivated, and excited, starting on Day One. We've picked our top 30 ideas for a MobyMax bulletin board that will be perfect for your classroom or hallway.
1. MAXimize your classroom corner!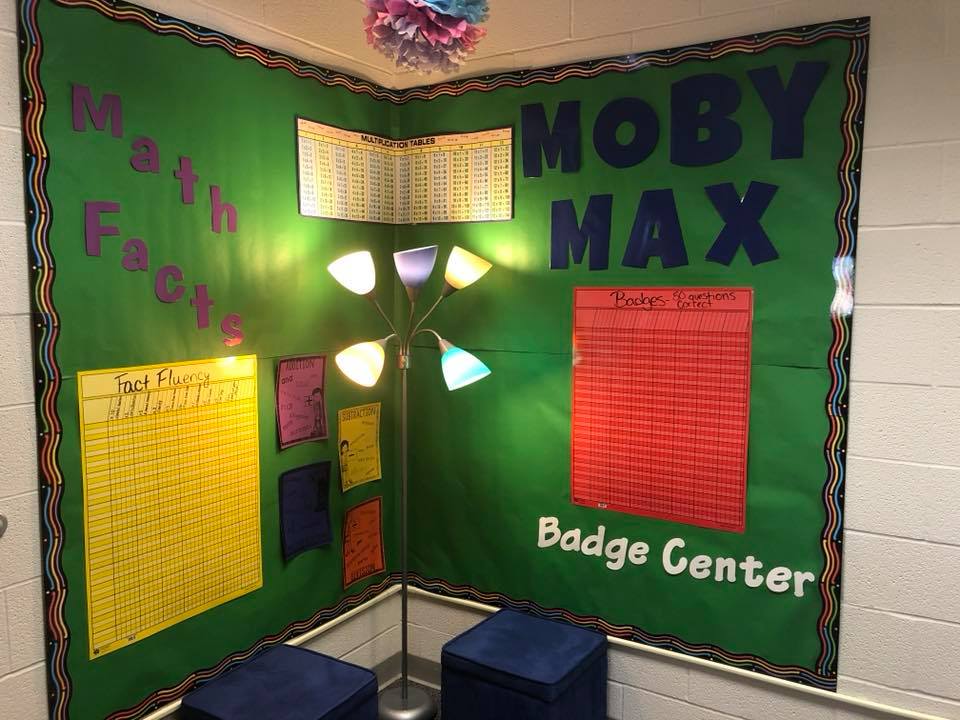 This Badge Center and these Fact Fluency charts are absolutely fantastic! Submitted by Katie Myers
2. Under the Sea Theme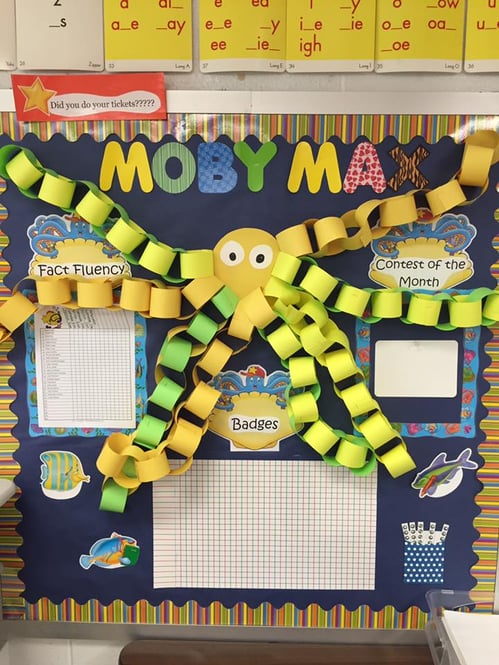 "I teach first grade and have a sea theme. This is my second year utilizing MobyMax. On the board, students will graph their fact fluency and badges earned. They will use stickers to graph their badges, and I will have a monthly contest to encourage hard work." ~ Stacey Kestler Robinson
3. Moby Math Masters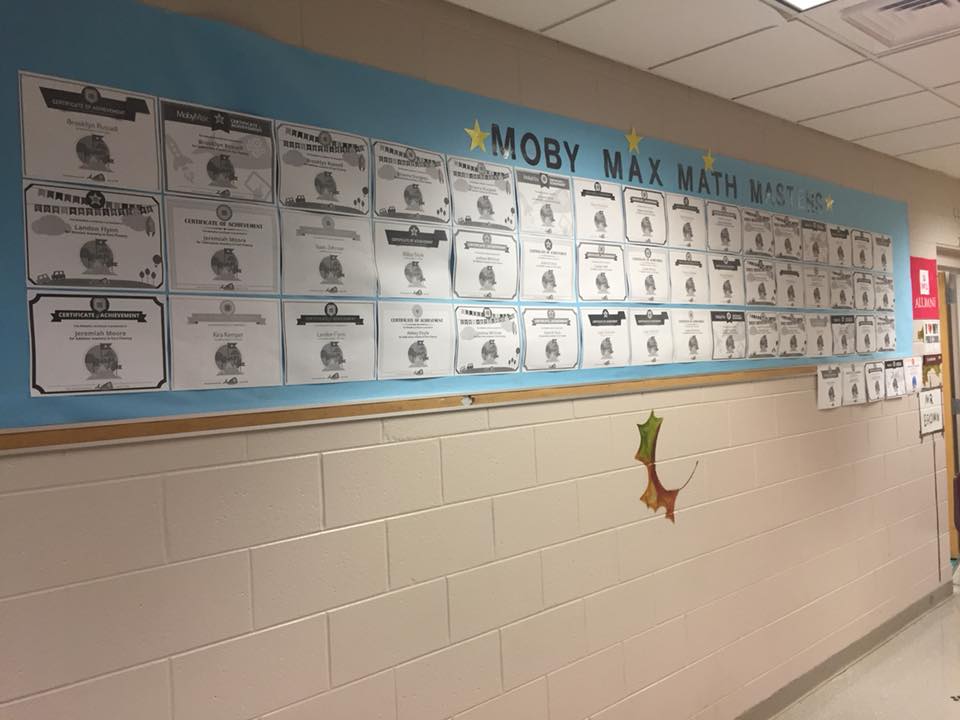 "I teach 4th and 5th grade math. We've been in school 6 days, and I've already filled up the outside hallway with Fact Fluency certificates. My kiddos can't get enough! We do a monthly contest for each grade level, and the top 3 students get breakfast from the restaurant of their choice brought in by me. The contest includes Math and Fact Fluency. I've pressed MobyMax so much this summer that my Principal just renewed our school subscription." ~ Bobby Brown
4. Moby Badges, Fact Fluency, and Monthly Classroom Contest.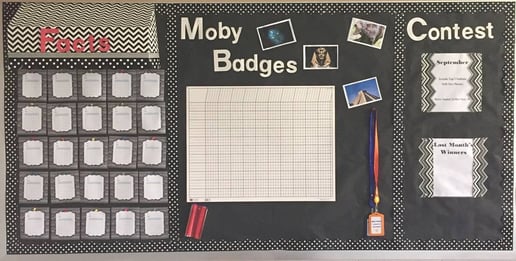 "I am still doing a sticker chart for badges. That is the chart in the middle. Students will wear the lanyard for a day for each badge. Every ten will earn a prize. As a class we will determine the prizes.... something different for every 10 badges. On the left are Fact Fluency charts. Students are encouraged to spend 20 minutes a week practicing their facts. Each Friday, a sticker is earned if the time is completed. When a row is filled, the student earns a juice box. Fact practice is regular homework in our school, but instead of flashcards, this year, fact practice will be digital.
Finally, on the right side of the board, the monthly contest will be posted. The winner(s) from the previous month will have their photos displayed." ~ Jen Lindquist
5. Reach for the Stars!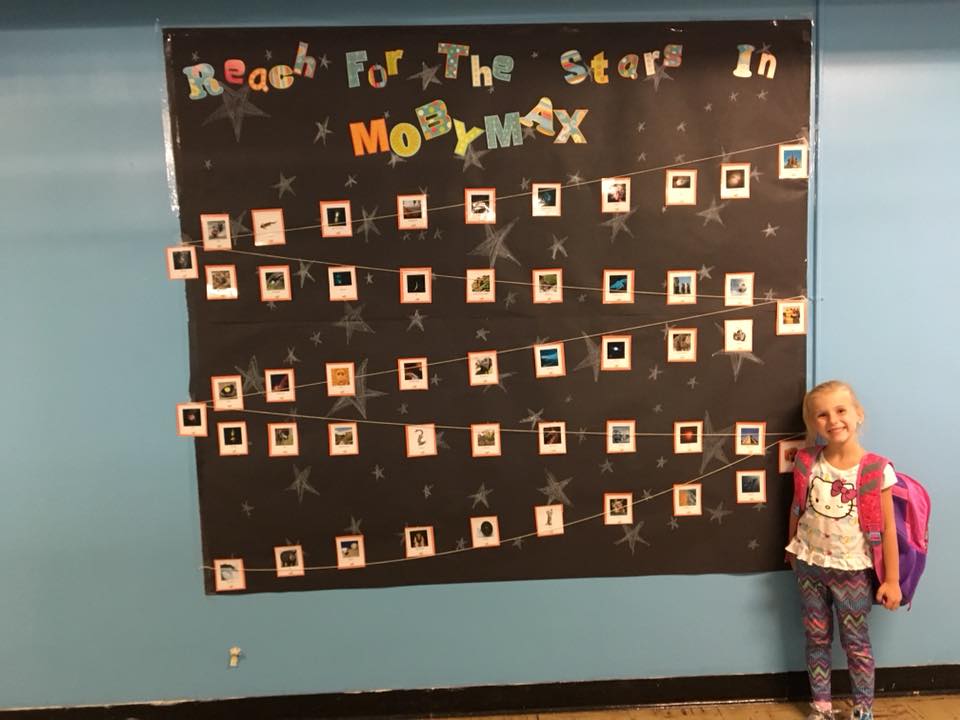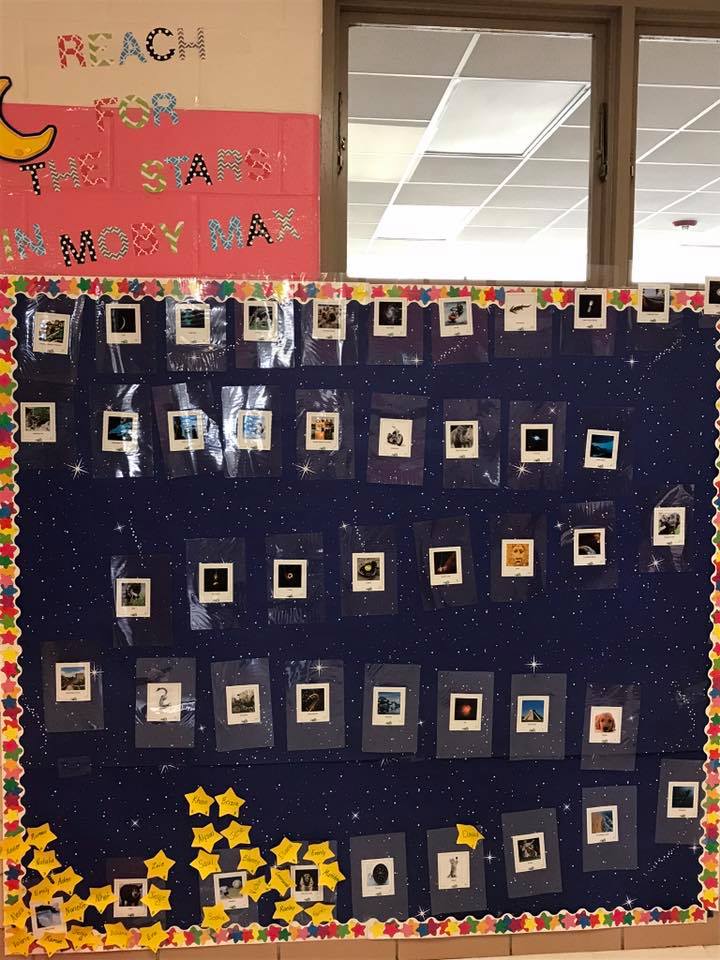 "As the kids got another badge, they get to move their own star! (That means I just put the board up and I let them do the rest of the work!)" ~Cynthia Kohn
6. Moby Fact Masters!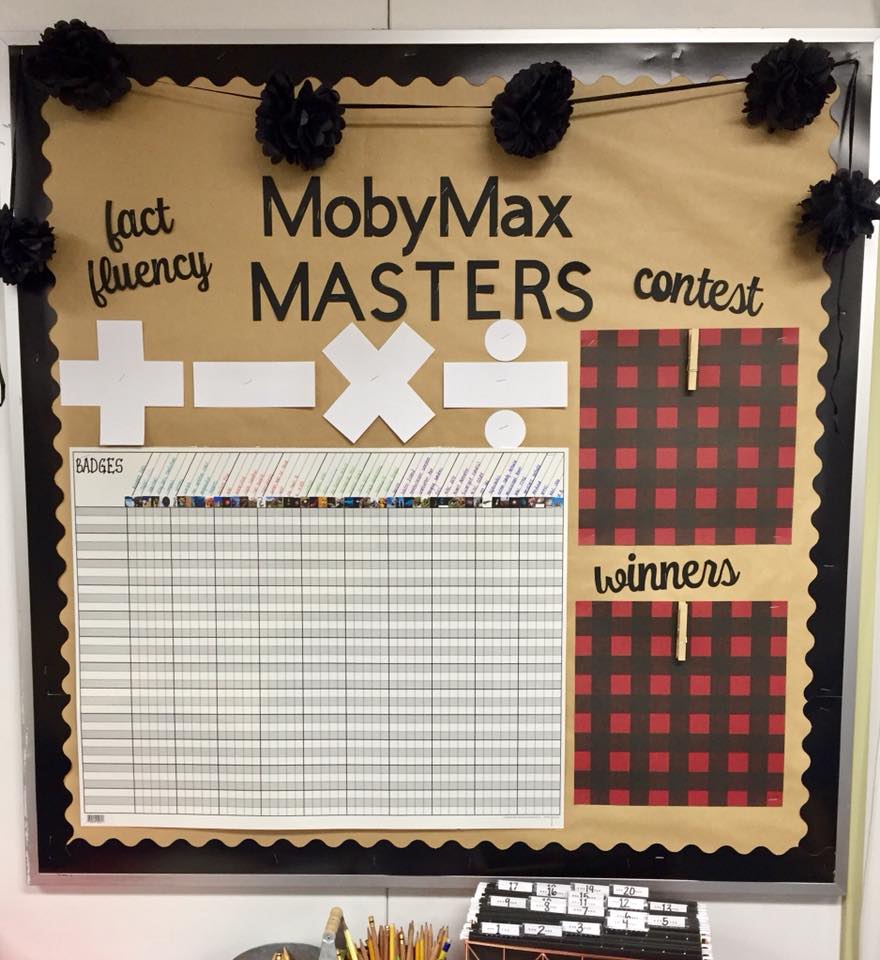 "The students will sign their name on the operation signs once they master those facts!" ~ Brooklyn Whitson
7. This one's a hoot!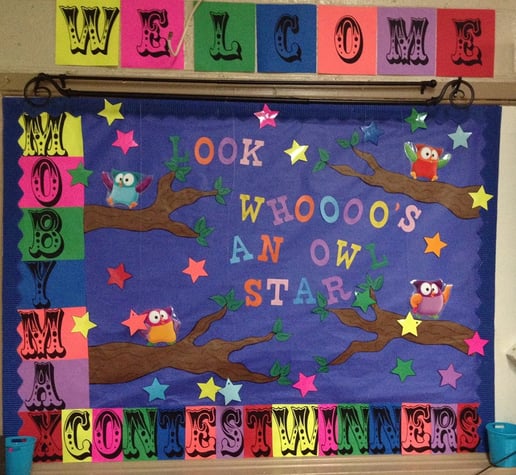 "Our theme this year is owls, and I thought this was a great idea and kind of went with the flow. My board is for contests in MobyMax, and the student that scores the highest will have their name on a star that hangs from the curtain rods by fishing string:). A student will also win a prize every month. I'm looking forward to a very exciting year incorporating MobyMax and all this program has to offer!:)" ~ Christina Jansen
8. Moby SuperKids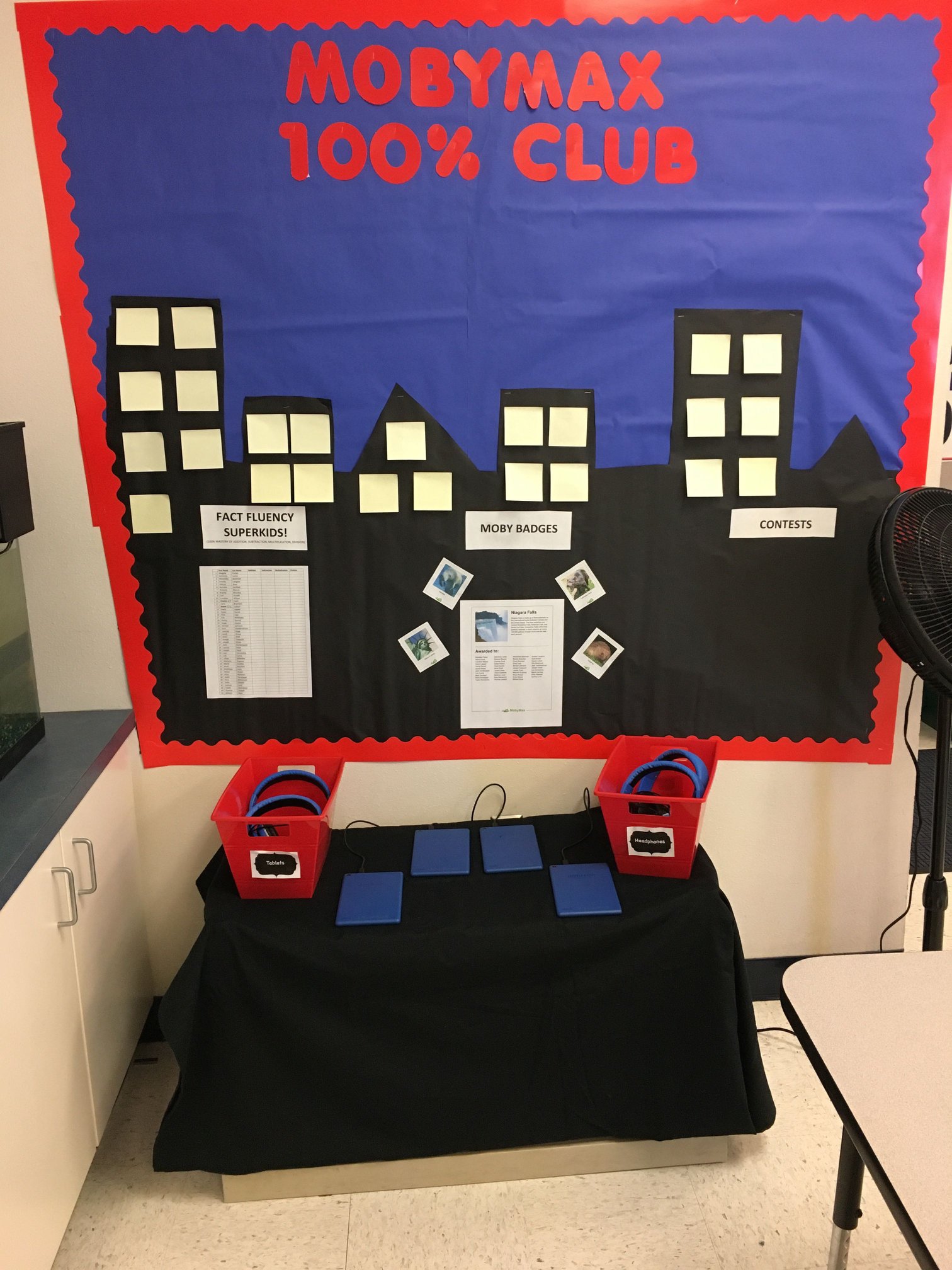 "Students are encouraged to achieve 100% mastery of all 5th grade math standards, and when they do, they become a superhero (with their picture on a flying superhero) on the board. Those students that achieve 100% mastery of all 5th grade math standards are inducted into their Moby 100% Club (1 day celebration in the class and a huge party with all club members at the end of the year)." ~ Mr. Moffitt
9. Moovin on Up!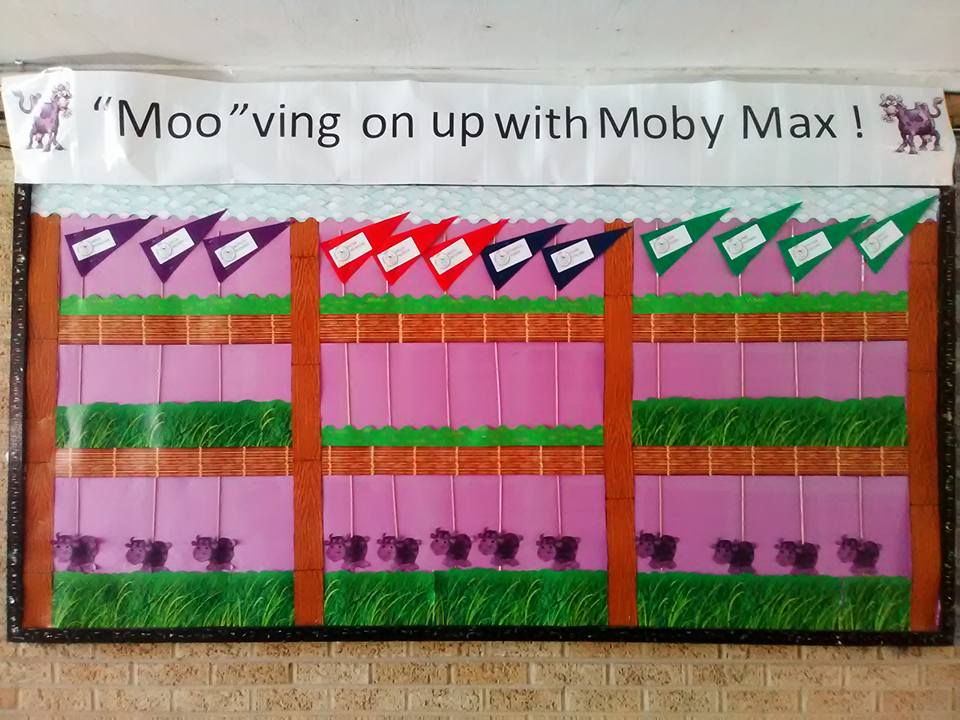 "I used this board for class goals. I would move the cows up every couple of weeks to show skills mastered in a class." ~ Rose Clayton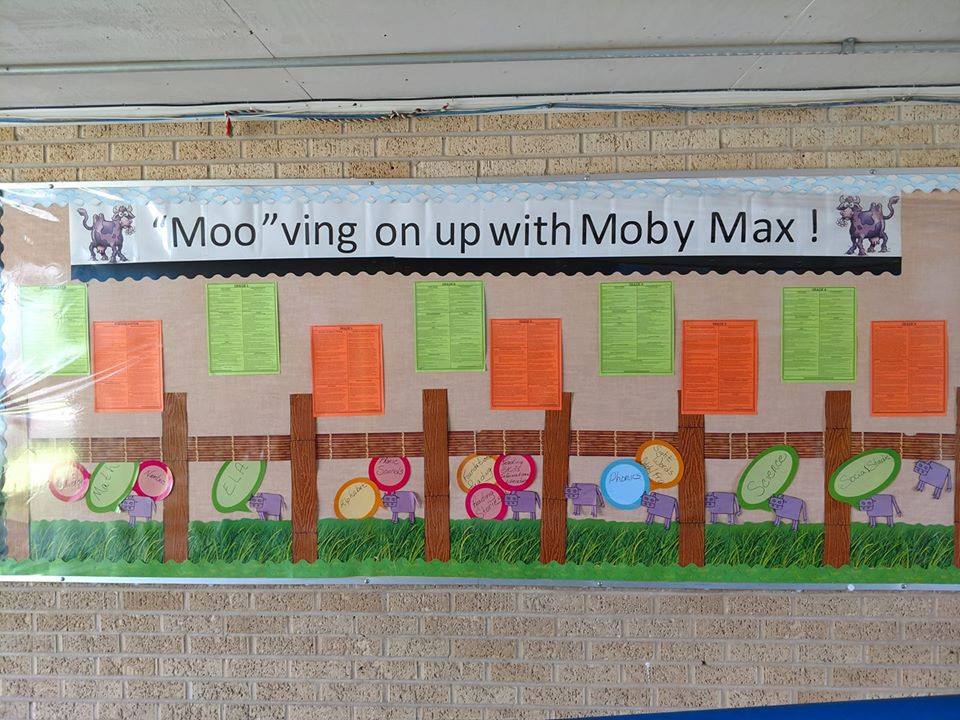 "This board shows all standards and skills taught using MobyMax." ~ Rose Clayton
10. Surfing into Math!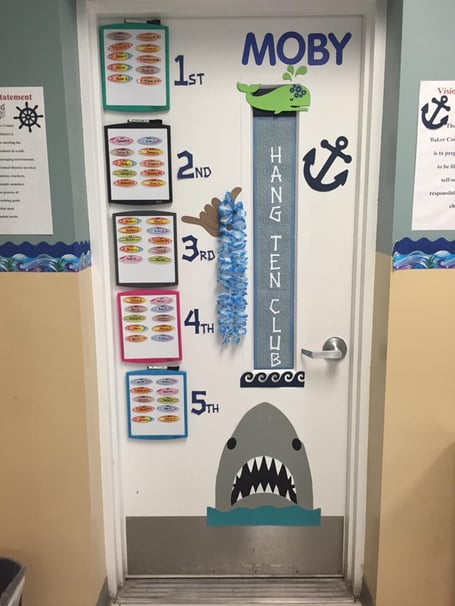 "I teach 8th grade intensive math. I use MobyMax for remediation, and it's wonderful!! Since my classroom theme is "surfing into math", I made surf board magnets for each student. I named the reward system "Moby Hang Ten Club". The top ten badge earners for each class are displayed on the dry erase boards each week. Plus, the class with the most "good vibes" gets rewarded with an extra 10 minutes of game time. I love how the MobyMax whale logo tied right into my class decor!" ~ Kendra Sands Morgan
11. I Scream for Ice-Cream!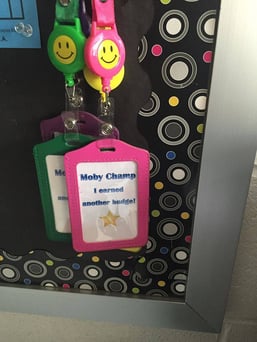 "Students earn a sticker for their chart for every badge earned. They also wear the Moby Lanyard for the day. For every 10 badges, students earn a free ice cream cone from a local shop or a selection from my prize box. We have been doing this since the first week of school. I used actual Moby badges for decorations." ~ Jen Croyle Lindquist
12. Spin the Wheel!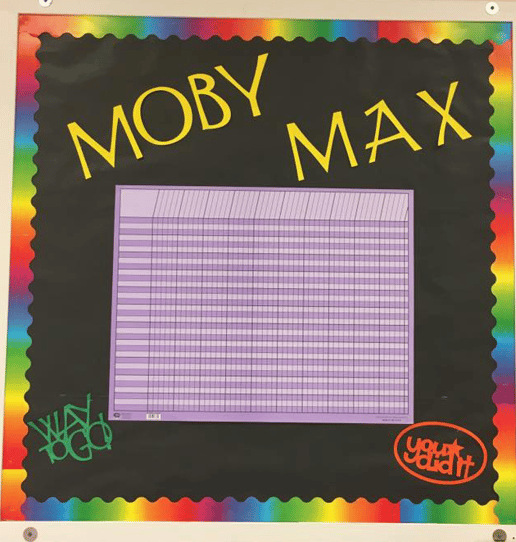 "Here is my Moby board for this school year. I will be tracking students' badge progress with the sticker chart. They will receive a prize of their choice from the reward spinner for their first 5 badges and then every 10 badges after that. Students love to see the progress that they are making while competing against their classmates!" ~ Erin Brinkley
13. Fact Fluency Super Stars!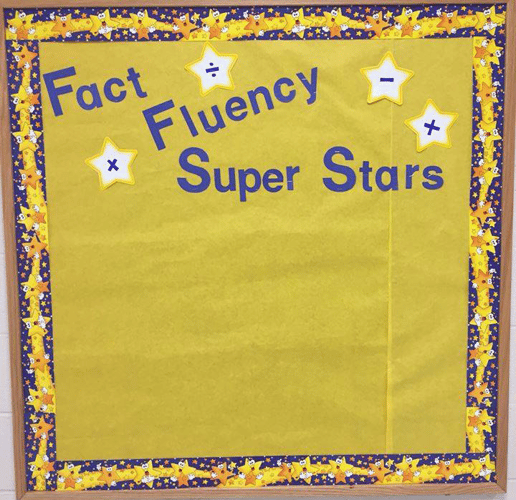 "We are planning a Fact Fluency contest to kick off our school year. It will be open to 3rd, 4th, and 5th grade students. Students who spend a minimum of 45 minutes a week practicing facts will earn an entry into the weekly drawing. One student from each grade will earn a prize and will have their photo added to our bulletin board, which is located in the hall near the main lobby. The contest will run for the entire marking period." ~ Nichole Lynn
14. Badges Galore!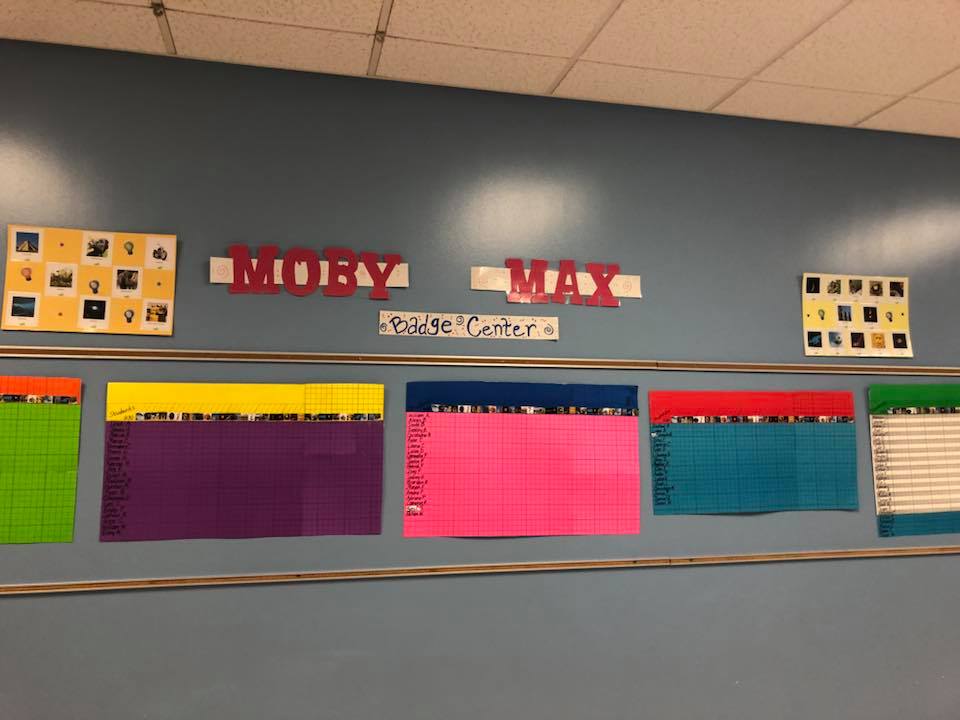 "New year, new badge charts!" ~ Kari Valleto
15. Whale, look what's new? MobyMax Real Rewards!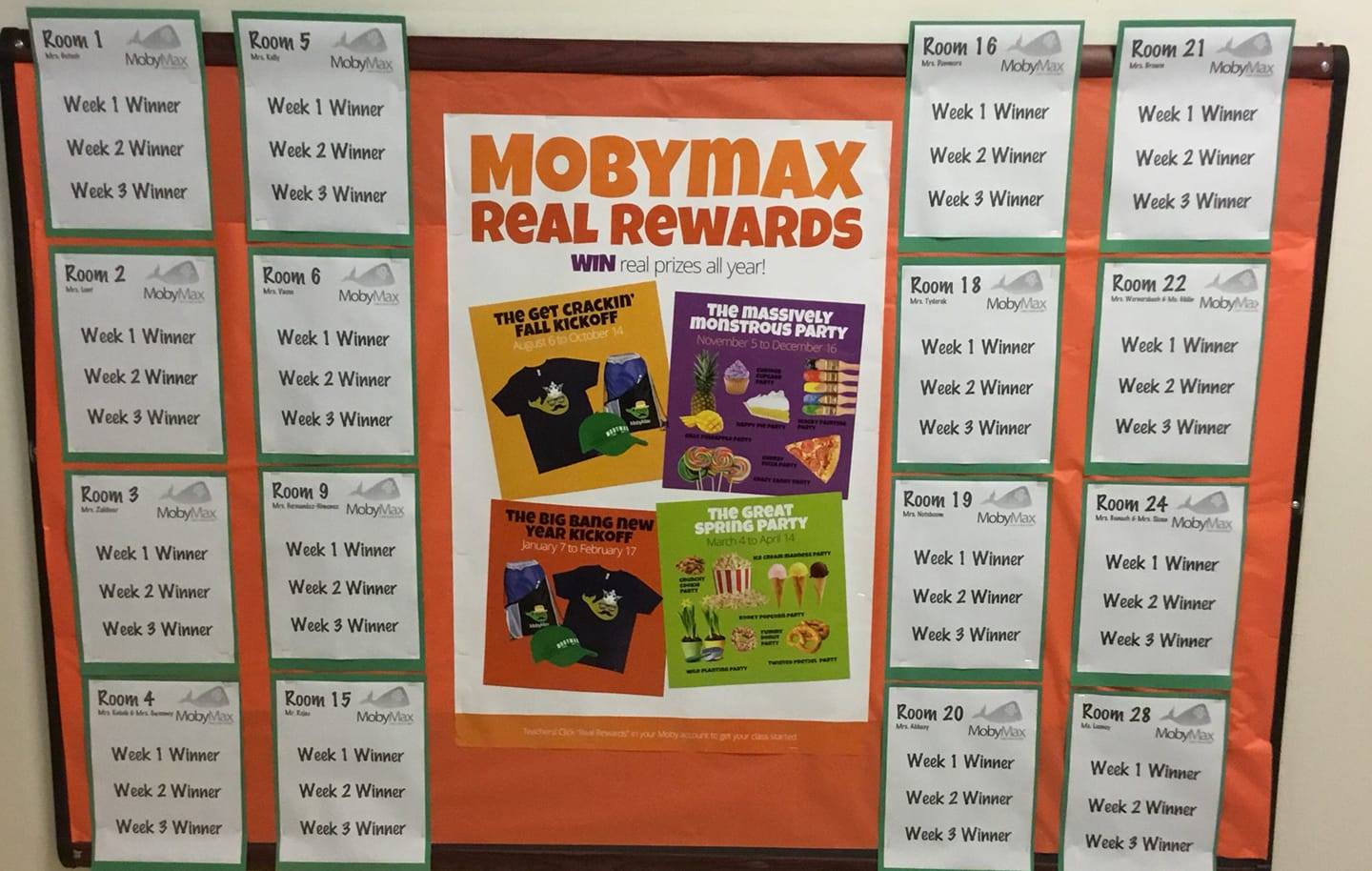 "This is my school's first year with MobyMax Real Rewards. To celebrate all of the winners in the Fall kickoff at our school, I created this board for everyone to use & see!" ~ Jaclyn Wernersbach
16. MobyMax Badge Center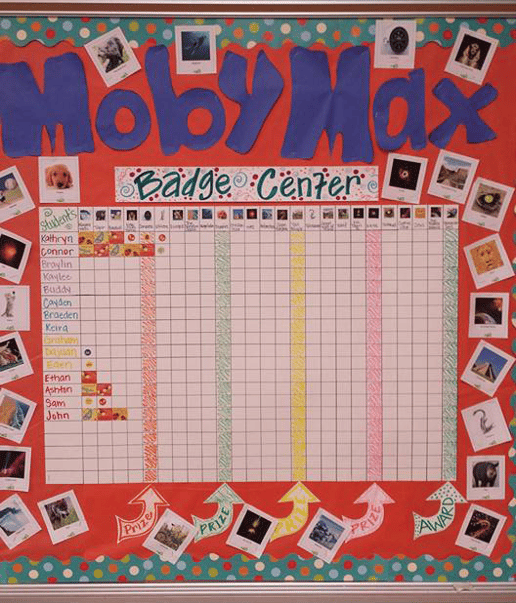 "For every 5 badges earned, students get a prize. Prizes are color-coded and get better as more badges are earned." ~ Brandi Wood
17. Space saver!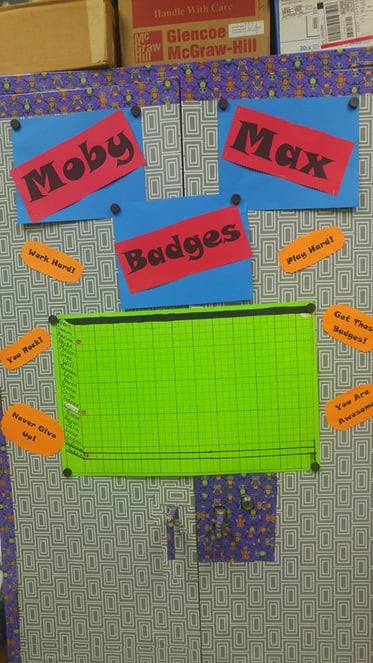 "This is my first time using MobyMax! We just took our placement test today, and we are ready to go! I used a cabinet as my bulletin board to save space. I plan to reward the students for badges. For every badge earned, they will get a sticker. After the first 5 stickers, they will get a prize, and then for every 10 after that! I'm so excited to use this program!" ~ Amanda Duvardo
18. Fact Master Wall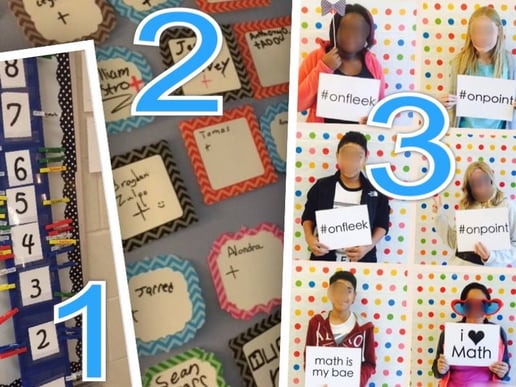 "I use MobyMax as a station, and we have lots of motivators.
1. - This is our monthly tracking chart. We use it to track how many lessons have been passed in a month. If a student reaches ten before the month is over, a Sonic drink or slush of their choice is delivered to them during lunch!
2. - This is our Fact Master wall. As students master facts in Fact Fluency, they are added to the wall and receive a prize for their accomplishment.
3. - For major landmarks (like 1 or 2 years of progress) students have the opportunity to take photo booth-style photos for our Amazing Growth Wall. These photos are posted in the room under the amount of progress they've accomplished and are published in our classroom newsletter for parents." ~ Melissa McCraw
19. Creative Badge Tracking!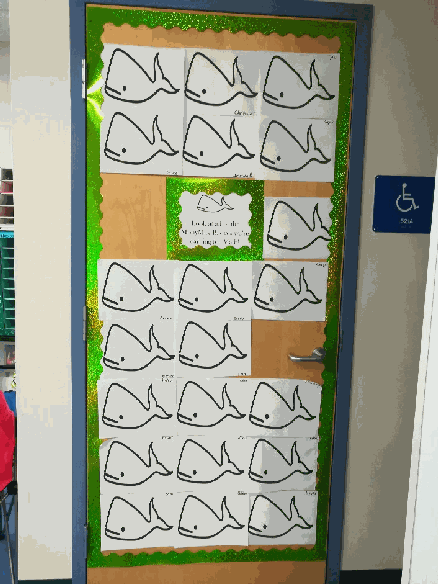 We love Mrs. Keene's badge tracking wall! ~ Mrs. Keene
20. Get Schooled!
"My kids are so excited earning badges. After earning badges they earn beach bucks to buy coupons. At the end of the year, we will have a party!" ~ Jessica Crusha
21. Join the Club!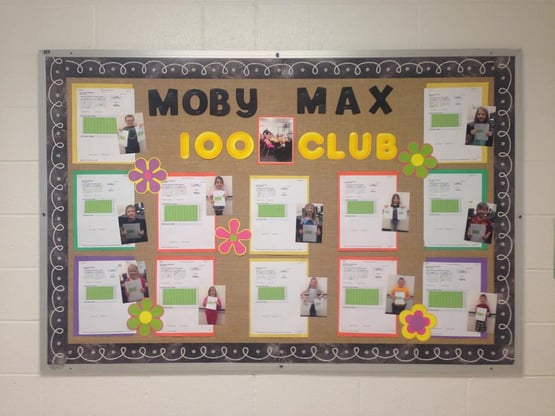 "This bulletin board showcases students who have mastered addition and/or subtraction facts and joined the MobyMax 100 Club. Members of the 100 Club get their picture added to the bulletin board, and they also get to eat lunch with Assistant Principal Jacob Messer. Students monitor their success by watching their MobyMax thermometers go up. Our students' confidence, skill level, and love of learning goes up as their thermometers go up! As teachers, we love the individualized, timed fluency practice and how it provides instant feedback for our students. We think MobyMax is a fun and engaging way to build success. Thanks, MobyMax!" ~ Teachers: Cathy Hunter, Tonya Pettry, and Rhonda Roberts
22. MobyMax Math Badge Hall of Fame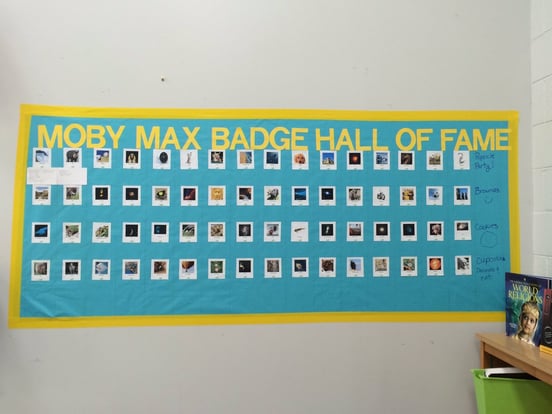 "We are taking our math practice to a whole new level! I have used Moby since it was MobyMath. Each row has a class prize at the end. After we all reach the first 16 badges, we have a fun event, like a Popsicle party." ~Kim Dunnagan
23. Popping through our math facts!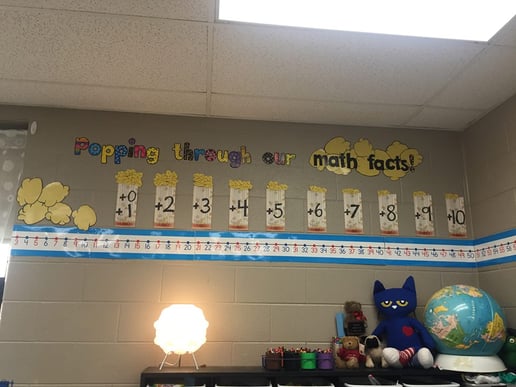 "My kiddos have been working hard on their fact fluency, so I use the fact fluency data to track their progress. As they master each fact, they get a piece of popcorn put on that "bag". When they whole class masters a fact, we have a popcorn party! We've had one popcorn party so far, and we just started after Christmas! " ~ Caren Eldridge Bush
24. 1st Graders wear badges with pride!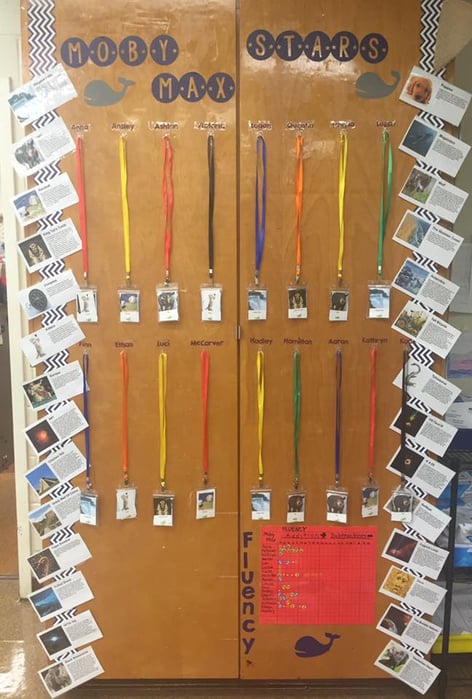 "My first graders love earning badges. It is a wonderful motivation to go along with a great program. Each child has a badge necklace where they put their badges/trading cards as they earn them. The necklaces hang on a hook under their name. After their necklaces start to fill up, they have trading card sleeves to put their older badge cards in so the necklaces can be replaced by new badges. They get so excited when it pops up on their screen that they have earned a new badge that they will show me and grab their new badge/trading card to add to their necklace. I have the badges descriptions posted around the outside border, so they can learn more about each badge. They love to wear their badges around their neck. I also track fluency with a sticker chart." ~ Hillary Ray
25. Fact Masters!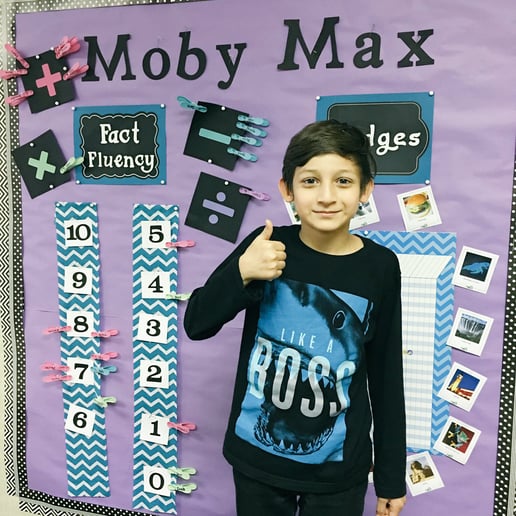 "The board tracks Fact Fluency on the left and number of badges earned on the right. For the Fact Fluency, the students have a different color clothespin for each operation:
Pink =addition, teal=subtraction, green= multiplication, and purple=division.
We spend about 10-15 minutes four times a week on Fact Fluency.
Each week I track each student's progress and move up the clothespin based on the student's percentage of mastery. When the student reaches 100%, the clothespin goes on the operation sign, and then he or she starts the next operation.
For the badges, students earn a sticker for every new Moby badge. For every 5 stickers, students earn a small prize.
Sean, the student in the picture, mastered all four operations." ~ Kristi Brewer
26. Feed Moby!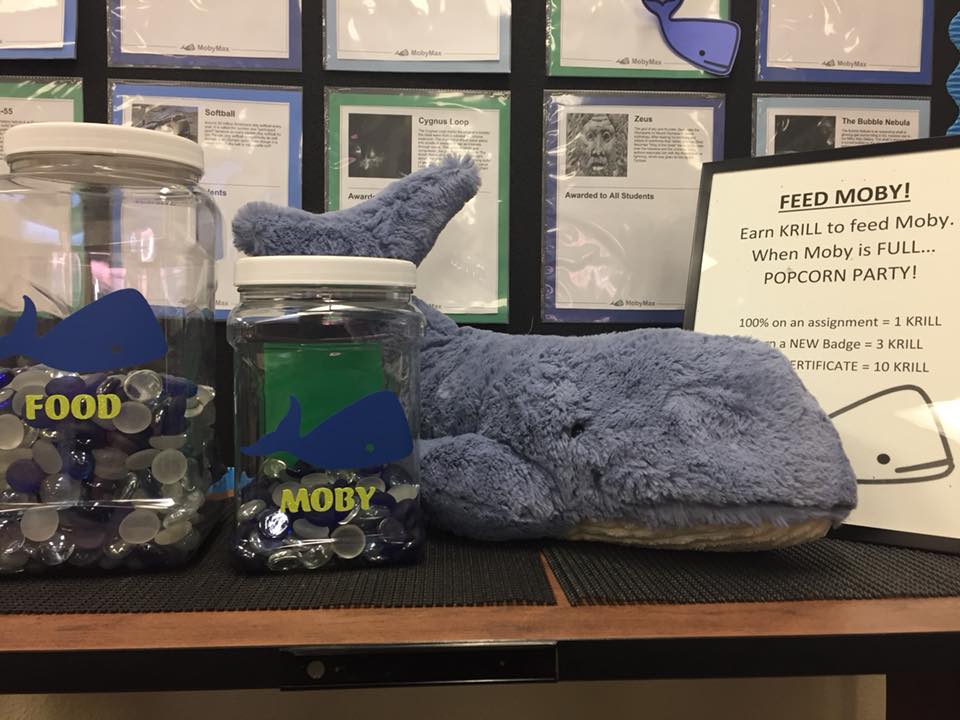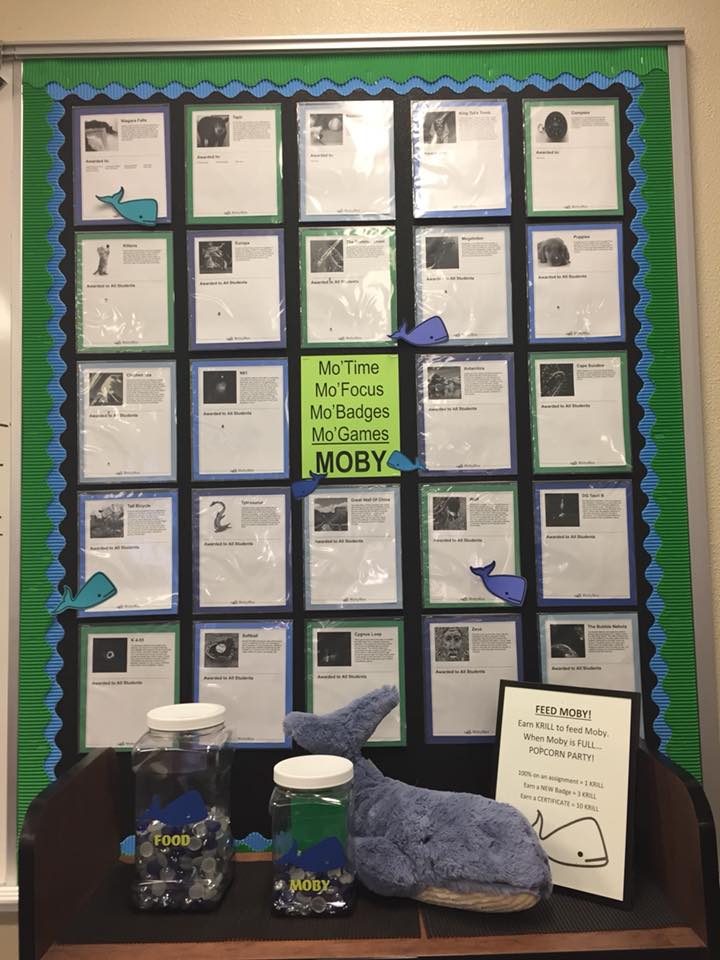 Mo' Time, Mo' Focus, Mo' Badges, Mo'Games! Students earn KRILL to feed Moby. When Moby is Full... Popcorn Party! ~ Ken Bartz
27. Colorful tracking!
Colorful Badge Center and Fact Fluency charts! ~ Katie Myers
28. Making a Splash!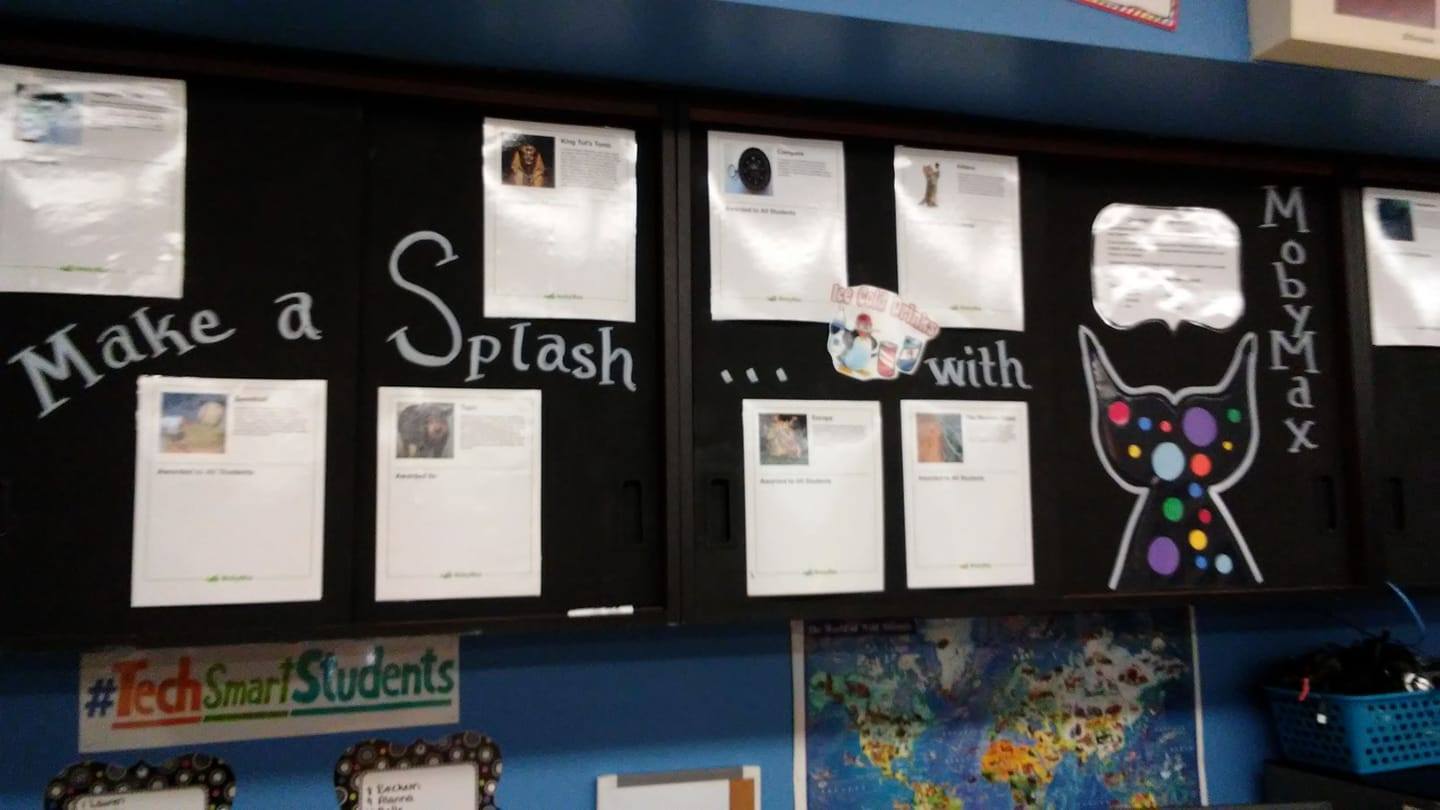 "Laminated Moby badge pages... kiddos sign when they achieve badge and win rewards at significant levels. These are just the first badges." ~ Juliann Caveny
29. Shooting for the Stars!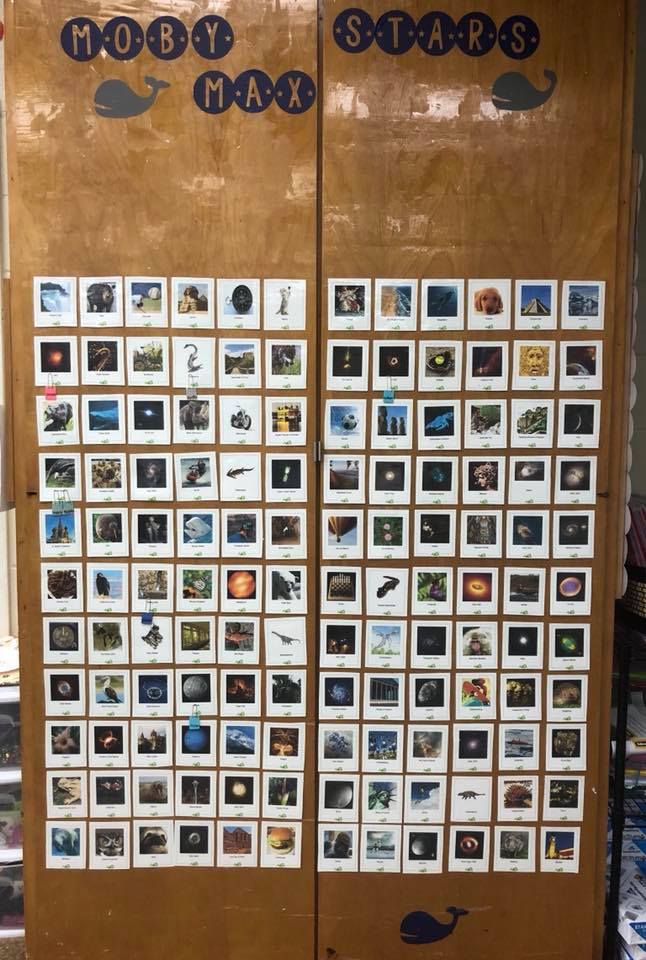 "My students move a clip as they progress through the badges! 💙MobyMax" ~ Hillary Ray
30. Thumbs up!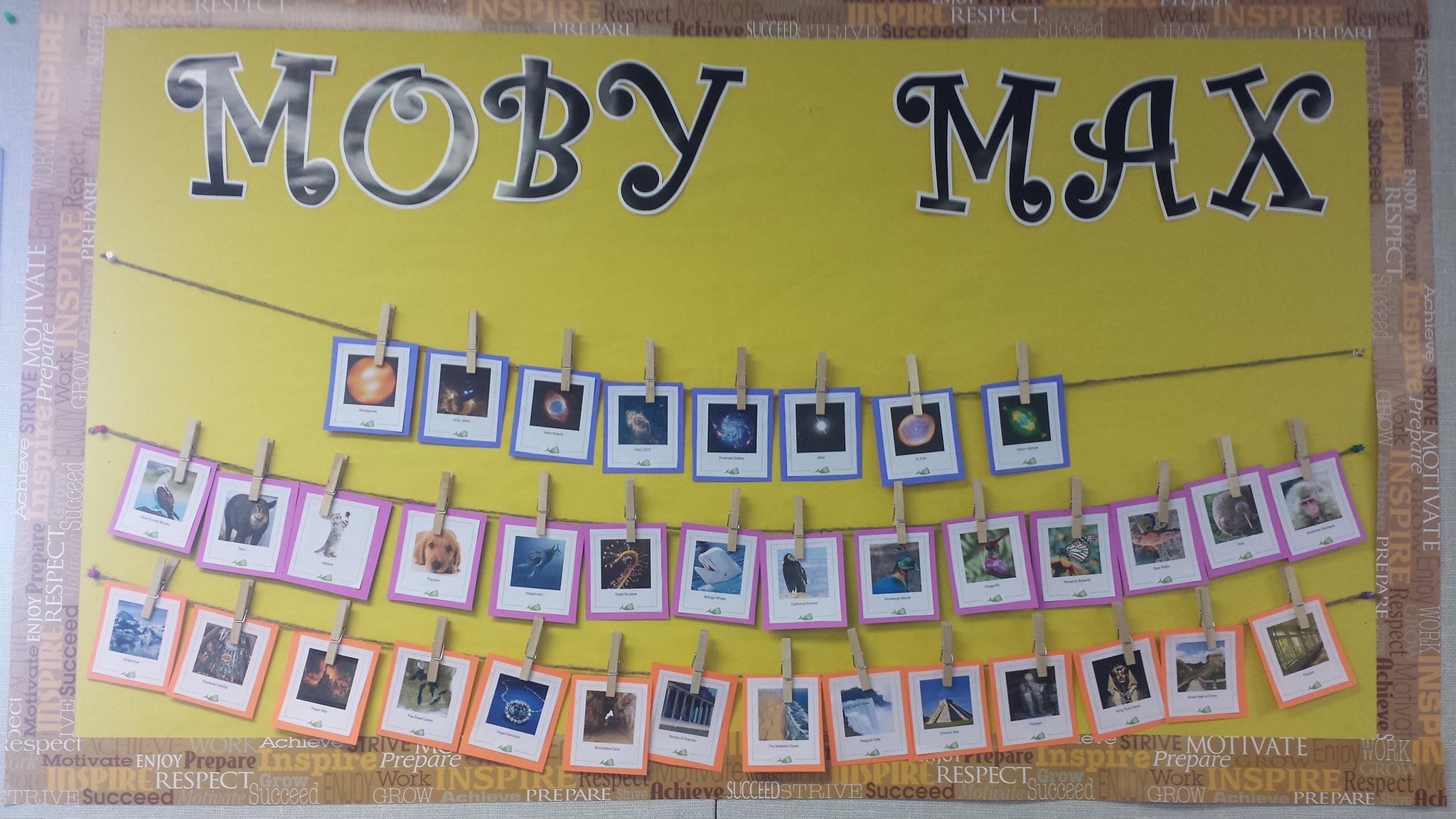 "The students love talking about which badges they have and the ones they want. They love it! When a student earns a badge, they give me a thumbs up. I give them one right back. It keeps the peace… otherwise they shout out, 'I got a badge!'" ~ Meg Hammer
###
Getting students pumped about their progress is just one way that MobyMax helps close learning gaps for your students. Whether you teach three students or seventy-three, MobyMax can help!
MobyMax: Register for free!