There's an old African proverb that says, "If you want to go fast, go alone. But if you want to go far, go together." Deciding they wanted to go far, the teachers at McKitrick Elementary in Florida have banded together to ensure they meet perhaps the most ambitious goal they've ever set: answer two million MobyMax problems correctly in one school year.
Why MobyMax?
MobyMax has been a big hit at McKitrick since teachers first started using it almost four years ago. Third Grade teacher, Monica Contreras, and her fellow teachers particularly appreciated how the curriculum empowers students to advance at their own pace and level, often fulfilling Moby's promise to help kids learn twice as fast. They progressed dramatically with Moby, embracing both school-year and summer learning contests (read more here).
"I love this program because it is a safe, reliable, beneficial, and fun option for students to use in the classroom and at home," says Contreras. "One of the major advantages of using MobyMax is the ease of differentiation. During MobyMax time, students can build on skills they still need to practice that may be below the grade level material we are covering in class, or they may accelerate into above-level content. Each subject area begins with a placement test that places a student at an appropriate level and builds on that knowledge."
Another reason Contreras values MobyMax is that "it is a wonderful tool to share with parents when they ask, 'how can I help at home?' The program is very user friendly, and you can print out parent reports or parent letters," she says. "Parents can also log into their child's account and view the progress online. Student, parents and teachers can keep track of how much time is spent on MobyMax and in which subject area."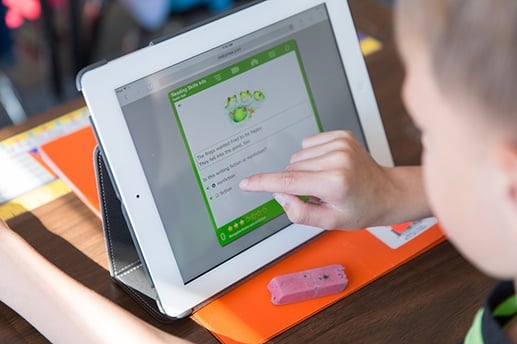 That flexibility, plus the opportunity for parental involvement, made MobyMax the tool of choice when Contreras and her colleagues decided they wanted their students to return from summer break having suffered zero summer slide. They turned to MobyMax to help their students not only maintain momentum but make some real progress for the three months they'd be on their own.
Getting Started
The school's teachers built togetherness by creating a MobyMax committee consisting of "champions" for each grade. Each champion serves as a resource for other teachers in the same grade who need help using the many tools MobyMax offers, including contests, badges, rewards, and public recognition for students who progress.
Next, Build on Success
The more teachers at McKitrick used MobyMax, the more achievement gains they saw. During one math contest they ran during October 2016, students completed 127,787 math problems correctly. Eighty-two students gained 2.4+ months of grade level improvement during just that month. By the end of the 2016-2017 school year, McKitrick students answered 1.5 million problems across all subjects correctly, giving the MobyMax committee confidence they could create a plan to achieve, if not surpass, the 2 million mark for the following year.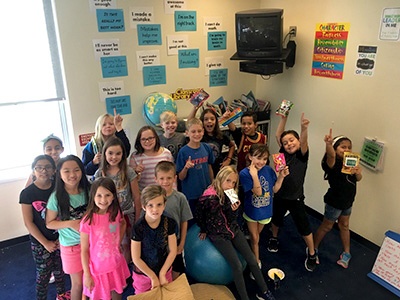 Make It Competitive…But Fun!
Given their ambitious goal for all students to reach grade level and beyond, teachers have turned to a tried-and-true motivator that has made MobyMax so popular: competition. McKitrick teachers plan to challenge students to achieve 100% mastery in addition, subtraction, multiplication, and division. They'll also hold quarterly contests in Moby Science, hoping that each student in grades 3-5 will complete 35 lessons (approximately 60% of the Moby curriculum) by the end of the 2017-2018 school year.
A new 100% Club like the one described here will focus on 100% mastery of standards for each grade level in math. Students will see their names and pictures on their hall bulletin board, which brightly showcases the 100% Club members in each grade. Students will also enjoy a celebration on the day they become members.
McKitrick also staged a unique MobyMax Olympics over the summer to encourage students to earn 1,000 points in all Moby subjects. Students who rack up at least 500 points will be invited to a special snow cone party during the first week of school. Students garnering 1,000 points or more will get to attend a MobyMax Field Day, complete with games, treats, and raffle prizes.
Results to Date
Remember that African proverb about the value of working together to go far? MobyMax makes it easy for teachers to work together to set and reach ambitious goals for all their students so that every individual can learn, achieve, and advance.
By working together and using MobyMax, the McKitrick teachers have gone far.
But they've gone fast, too.
Even after school ends, the MobyMax summer program helps keep students sharp year-round. The contest just ended, and the results are startling! The 156 students participating (14% of the school) showed real growth. In Moby Math, 71 students stayed active and saw significant gains…

• 37 students gained 1 month grade level improvement in math
• 13 students gained 2 months of grade level improvement in math
• 5 students gained 3 months of grade level improvement in math
• 1 student gained 4 months of grade level improvement in math
• 1 student gained 5 months of grade level improvement in math
• 2 students gained 9+ months of grade level improvement in math

Plus, the progress continued in Fact Fluency, with 75 students answering 36,408 problems correctly over the summer break!
At this rate, students will return to school not only with knowledge that they gained from last year fresh in their minds, but showing marked improvement since then.
Making summer gains is not the only benefit of the Olympics. "The activities mirror Common Core, which is a huge plus," notes Chris Godshall, AGP teacher at McKitrick and a 15-year veteran of Hillsborough County Public Schools. "You can easily search for standards or topic by grade level and assign them to your students or class. We have seen tremendous growth in students that are using this versus those who are not."
Further, Godshall appreciates that he can "differentiate in so many ways by assigning activities in ALL subjects. Students take a placement test in Math and Language and then work at their appropriate level. You can assign specific lessons to reteach or enrich as well as sequence lessons to be completed in a certain time frame."
Contests, one of MobyMax's most popular features, add to the appeal. "We just finished our school-wide Fact Fluency multiplication contest, in which participating students received a popsicle," he reports. "We have a summer Science contest as well."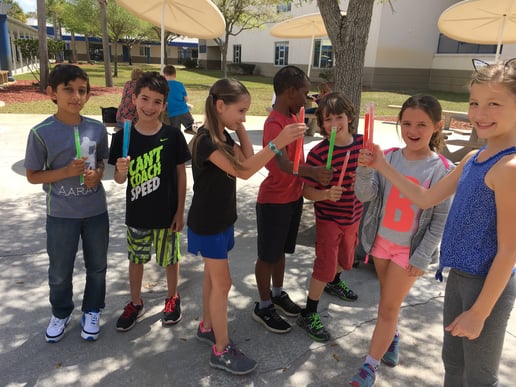 The contests are fun for the kids but also provide invaluable information to their teachers. "You can pull and analyze data from each of the different modules. We use this, along with classroom data, as a great resource for parents to support their child on his/her individual level at home," Godshall says. "I continue to learn and explore new things in MobyMax daily and continue to be amazed at all it has to offer. This program is truly changing the way I plan my instruction and allows me to give the most to my students."
Though the summer initiatives are just ending, the MobyMax committee is already looking toward the spring of 2018, when they plan to hold a language contest to focus on skills such as identifying parts of speech, verb tenses, and vocabulary, just in time for testing season.
Maybe we'll have to rewrite the proverb to more accurately reflect reality when teachers use MobyMax: "If you want to travel far AND quickly, band together and use MobyMax!
Interested in seeing more? Here's the complete detailed plan McKitrick is implementing in the 2017-2018 school year.