Looking to get a major excitement boost in your classroom this year? Want to do something special (and easy) that inspires your kiddos to come in early, work without complaining, and exceed both your expectations and theirs?
Well, take a look at Moby Contests!!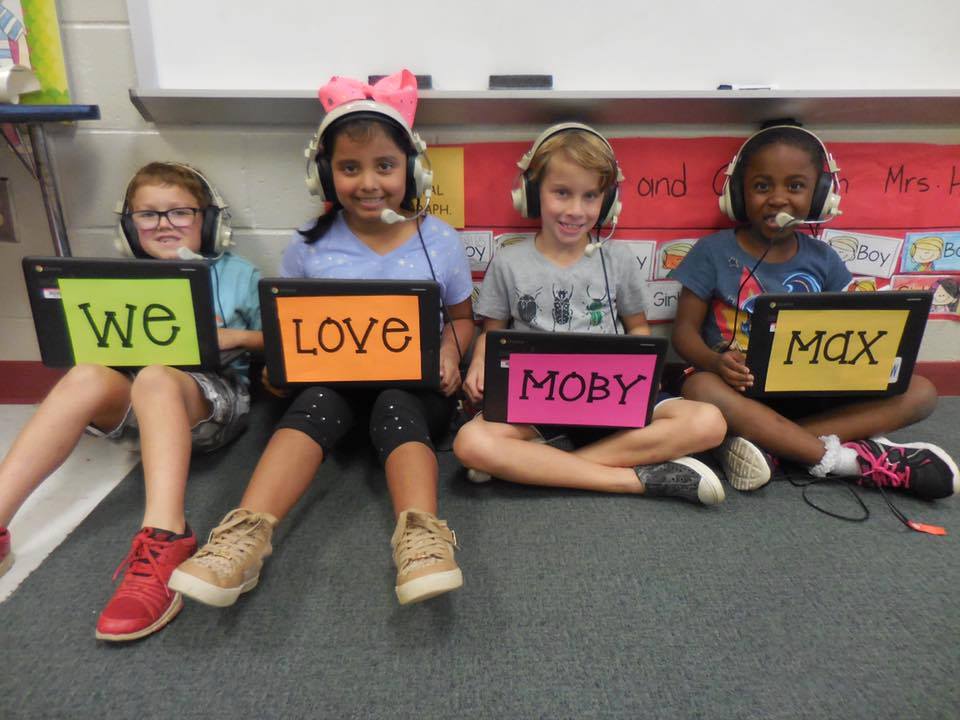 *Photo credit: Nicole Hill, Friendship Elementary School
Last year, we challenged teachers and students to compete in a MobyMax classroom contest that would be fun and motivating, but educational, too. Participants could choose any one of the 27 K-8 subjects Moby offers and design almost any type of contest they wanted to. With this "sky's the limit" approach, contests ranged from one-week fact fluency sprints to science challenges to a nationwide math showdown where classrooms competed for an epic pizza party.
Some teachers ran a contest using the Moby Language module, which teaches students key skills tied to the Common Core language standards. By working in the module, students learn to master parts of speech, verb tenses, punctuation, and new vocabulary, all of which improve their writing.
Though teachers customized these Language contests to fit their classrooms, they all had one thing in common: they made practicing grammar fun, competitive, and cool.
Some kids were motivated by the opportunity to win a prize. Others wanted to win just for glory. Still others were driven by the chance to rank among the top three on their classroom leaderboard. Students who normally don't participate or do their homework were coming in before school, hoping to work on Moby before class even started.
While students were having fun competing, Moby Language continually updated each student's progress during practice and review. Throughout the contest, teachers knew exactly which standards their students were struggling with. As an added bonus, teachers could use the information gleaned during the contest to inform instruction once the competition ended.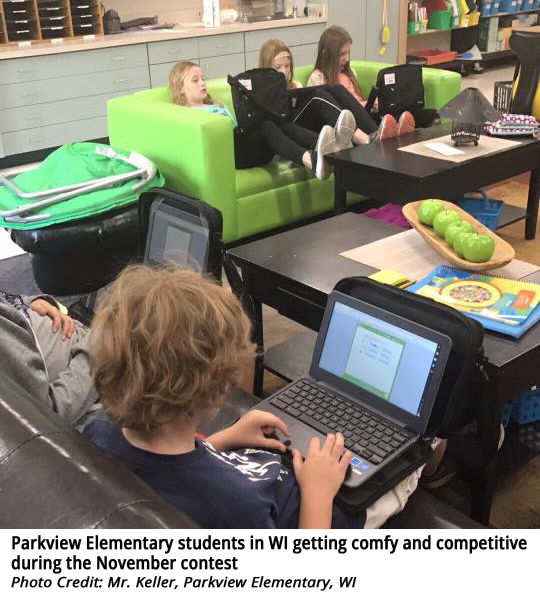 Thousands of teachers shared their stories on our Facebook page. Here's a small sample of what teachers told us.
"My top student today had a time of 2,950 seconds with a raw score of 253. I saw TRIPLE motivation today. First, because we were starting this new contest. Second, because new badges were earned. Third, because my students were so proud of themselves for making lots of 100% scores. Thank you, MobyMax, for taking part in building their confidence AND skills!!!!!" ~ Deborah Barker, Skyline Elementary, MO
"My morning class winner has 2,335 seconds and 156 points. My afternoon class winner has 2,482 seconds and 51 points. The contest and certificates have motivated them so much! This inspires me to continue setting up contests so I can reward their focused, hard work! I love that it helps to review language we've already covered, but introduces them to language ahead of their lessons! MobyMax Rocks!" ~ Ria Huckeby, Washington Elementary, OK
"My top student has a time of 8126 seconds, and raw points are 807. My students love MobyMax. They have come in every day asking to get started in the mornings before class starts. And some have even told me that they work on it at home. Magical words to a teacher's ears!" ~ Lori Harell, Westfall Elementary, OH
"Badges and Certificates galore! My students have earned more of them in two days than they have in one month combined! After seeing how motivated my kiddos are with this contest, I will be organizing my own next week. Thanks again MobyMax. Top winner for just today's scores is: 5,880 seconds and 402 raw points." ~ Beth Kennedy, Laliberte Elementary, MA
"I teach special education in middle school and my students are not big fans of reading at all! They always say, "Can you please make reading fun?" Well now I did! They love it! My top student spent 6,892 seconds and their raw score in points is 245. My students can't wait to finish their classwork to log on. So competitive!" ~ Jenna Neil, North Lebanon Middle, PA
Clearly, contests were just the oomph teachers and students needed to make learning language skills fun, effective, and rewarding.
Setting up a Moby contest is so easy that it takes less than 2 minutes. And don't worry about expensive contest incentives; in our experience, kids love simple prizes like homework passes, hot chocolate, extra recess, fun Friday time, or getting the opportunity to select their own seats in class.
Want to create your own MobyMax classroom contest? Here's how to do it in 2 minutes or less.
Sign in to your teacher account and click "Contests."

Click "Create Contest"
Name your contest. For example, call it the MobyMax (Subject name) Challenge

Enter your start and end date.
Select Subject.
Select results based on time or points.
Choose Contest for: My Classroom.
Determine your awards.
By the way, along with daily, weekly, monthly, or quarterly contests, there are some great year-long goals that you can set to take Moby to the Max! Check out how one 4th and 5th grade AGP teacher created a "100% club" to motivate students to meet 100% of their grade-level math standards. "Students were fired up about it," he says. "They definitely wanted to come out of the gate running with it." Read more here.
New to Moby? Register here and you will be off and running!