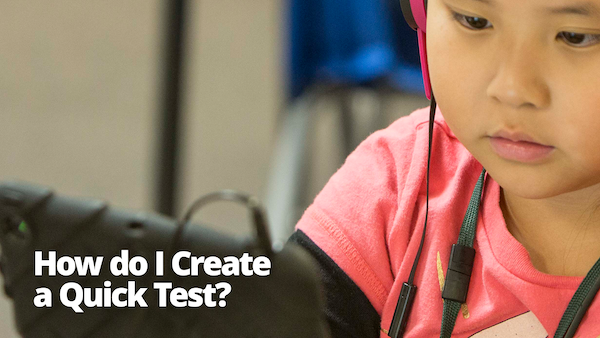 Formulating high quality questions for useful quizzes or exit tickets takes time and can still miss the mark—unless you're using MobyMax! Our Quick Test tool enables you to create custom tests within minutes by providing hundreds of thousands of pre-made problems covering all K-8. Whether you're crafting a quiz, exam, or exit ticket, use Quick Test to prepare the assessment you need in no time at all.
This two-minute how-to video shows just how easy it is. Start by accessing Moby's entire K-8 curriculum. Find lessons sorted by subject and grade level. Choose the lessons you want, making the test as long or as short as you wish. Then, select the students you want to take the test. The test will show up in the students' assignments tab on the day you designate. After the students complete the test, analyze the results using the Snapshot and Gradebook tabs in your teacher account. That's all there is to it.
Teachers who use Quick Test have left comments on the video that will give you some insight into why the tool is so effective. What are they saying?
"I love that I am able to quickly differentiate tests for students and really focus on what standards they are struggling with."
"The ability to actually make an assignment and assign it to individual students and analyze the scores right there is amazing."